In this week's edition of 'Meet the Parent' we are speaking with Michael Flint, recently announced as the new President of our Parents' & Friends Committee.
Name: Michael Flint
Occupation: Accountant & Managing Director at 'Smart Audit Pty Ltd' 
What year did you join the Marymede Community and what year level/s are your children in?
We joined the Marymede community in early 2010 when our daughter (Laura) was baptized in Marymede's Chapel of the Annunciation. Laura commenced as a student in 2015 and is now in Year 2
Amy, our youngest daughter, will start Prep in 2018.
Why did you choose Marymede Catholic College for your son/daughter's education?
We chose Marymede Catholic College for the benefit of an uninterrupted Catholic education across Prep to Year 12 along with its close proximity to our home in South Morang.
What have been some of your most memorable highlights during your time here at the College?
The Year 1 (2016) excursion to Edendale Farm which I attended as a Parent helper along with the 2016 Primary Choir Concert have been two memorable highlights.
What is your favourite thing about Marymede Catholic College?
The fact that our daughter is getting involved in (and enjoying!) everything that the College has to offer. 
Fast Five:
Favourite Food: Baked Cheesecake
Favourite Movie/TV Show: The Big Bang Theory
Hidden Talent or Something We May Not Know About You: I'm a squash aficionado; I have been playing the game ever since picking up a racquet at the age of 4!
Favourite Sporting Team/Athlete: Brisbane Broncos (NRL)
If You Could Pick Any 3 People as Dinner Guests, Who Would They Be and Why?:
Prince William and Kate - To keep things formal and 'real'!
Ed Sheeran - For some good tunes.
Kermit the Frog - Just to lighten the mood!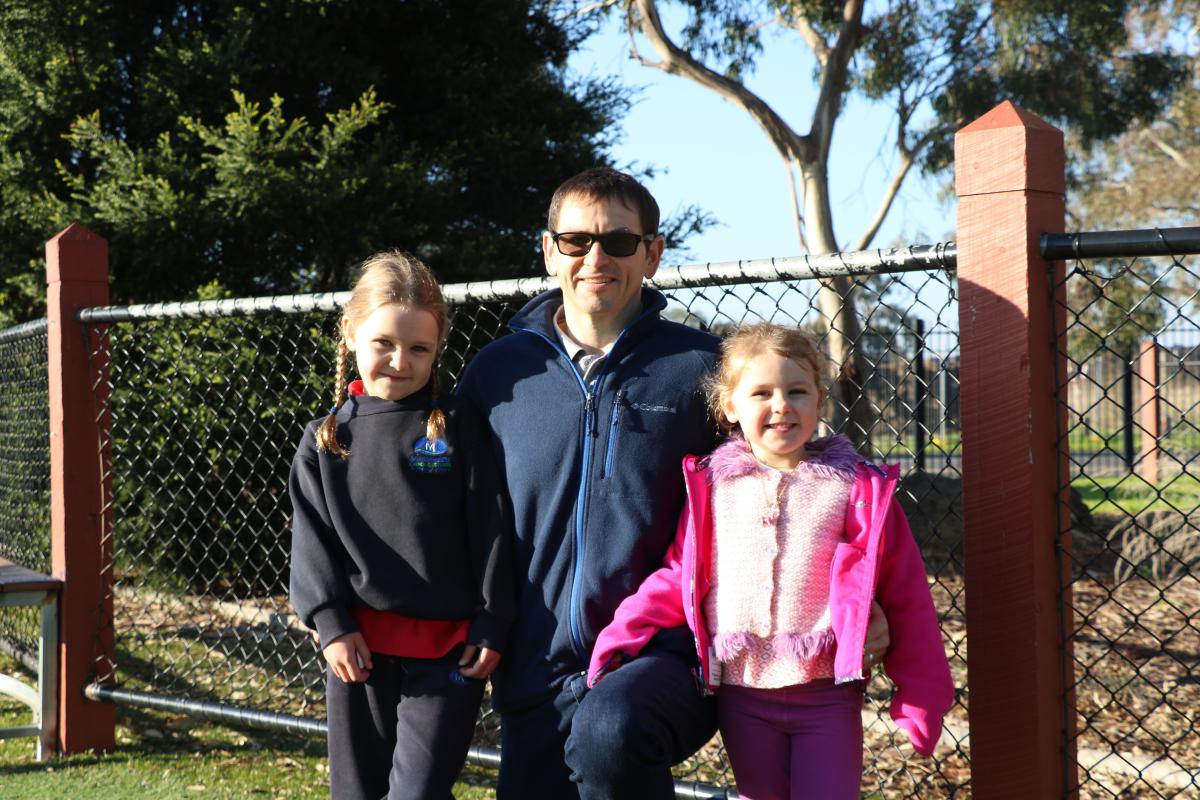 Michael with his two daughters, Laura and Amy.
Laura, Amy, Sarah and Michael