You are here
UNIFORM SHOP
Top Image: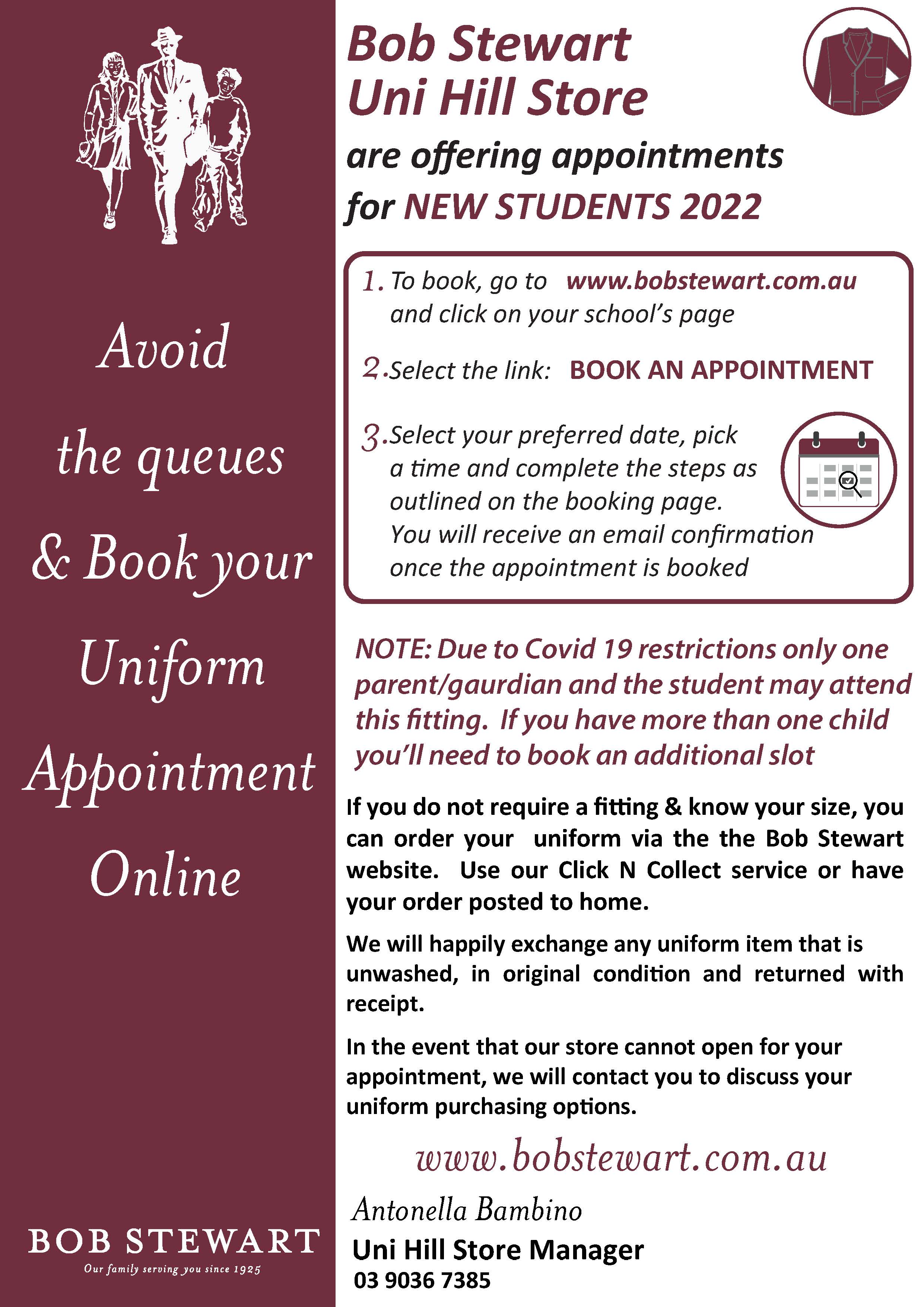 Students at Marymede Catholic College have three uniforms. A summer uniform worn during Term 1 & 4, a winter uniform worn during Term 2 & 3, and a PE Uniform worn on days where students have a timetabled PE class. Additionally each student is required to purchase a Guild color Polo shirt and cap which are worn on Housedays and sporting carnivals.
Bob Stewart is the college's uniform supplier and operates a store at Uni Hill, 25/5 Janefield  Drive, Bundoora, VIC, 3083.
The shop's trading hours of operation are as follows:
Monday to Thursday 9am - 5pm
Saturday 9.30am - 12.30pm
LATEST NEWS AS AT 13 OCTOBER 2021
Due to COVID restrictions, the store is currently closed, but is scheduled to reopen on Monday 8 November at 9.00am
Bob Stewart Uni Hill will offer families new to Marymede wanting to purchase the full school uniform the opportunity to get in early and avoid the queues.
Uniform appointments will commence from Monday 8 November and run until Saturday 18 December.
Bob Stewart encourages families to book appointments, the first two weeks are now live on the website and families can access the booking system https://bookings.bobstewart.com.au/uni-hill-store/ . Please see attached flyer for more information.
Web orders are also available for postage and click and collect: https://www.bobstewart.com.au/
Families can visit the store without an appointment during the store's trading hours of operation however will be required to queue for entry to ensure COVID requirements are met.
Trading Hours
Monday - Thursday 9am - 5pm
Saturday 9.30am - 12.30pm
Click here for the Uniform list
Click here for a map of the store location
Click here for Uniform Regulations
Contact telephone: 9036 7358