The foundation of Luis Fragale's (Year 3) journey at St. Mary's College for the Deaf and the Marymede Community all began with a regular visit to Australian Hearing in Moonee Ponds, where Luis' Audiologist would inform his parents of the School and their partnership with Marymede Catholic College.
St. Mary's College for the Deaf welcomes Prep to Year 12 students with significant hearing loss into a vibrant, exceptional learning community in partnership with Marymede Catholic College at its South Morang Campus. Their educational program for deaf and hard of hearing students operates within five local partner primary and secondary schools across Melbourne. Students integrate within the partner school wearing the same uniform and attending classes and other school events as members of those school communities. 

Luis' Mother, Jacqueline recalls learning of St. Mary's existence as a great sense of relief. "Not only would Luis be able to attend a Catholic school that is very close to where we live but he was also going to be supported with his hearing loss. We arranged at interview and tour with St Mary's at Marymede, we knew then it was the best place for Luis' education."
Although they would spend a significant amount of time in their mainstream class, students enrolled into St. Mary's College for the Deaf have the option of enriching their educational program by accessing teaching, interventions or adjustments as needed from the St. Mary's College staff.
"Both St Mary's and Marymede work together to support Luis' education." Says Jacquline. "Luis is supported by a Teacher of the deaf in the mainstream class but is also withdrawn throughout the week to work on his own individual goals in the St Mary's College specialist classroom. St Mary's also provide a Speech Therapist that works on Campus in which Luis attends twice a week. We receive feedback from all his teachers on a regular basis too, which is so important to us. At times the language barrier can be difficult for Luis to explain things, so this feedback and open communication is vital."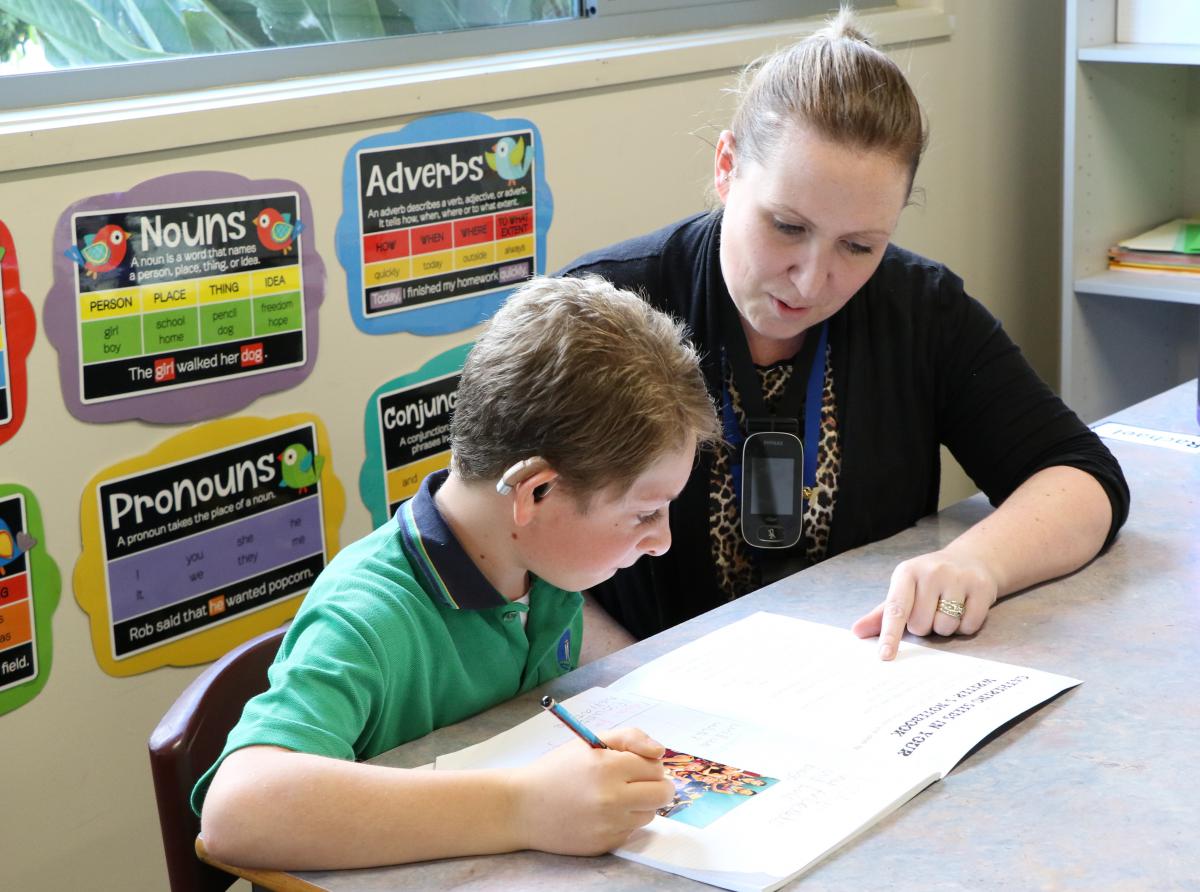 Luis working with a team member from St. Mary's.
The real benefit of the St. Mary's College partnership with Marymede would not be fully experienced for the Fragale family until several years later however, with Luis younger sister Monique joining Prep in 2018, and the youngest member of the family Seth, joining the new Marymede Early Learning Centre in 2019.
The advantage of one, all inclusive Campus is where Marymede finds its real strength. "To have all three of our children at the one school, that meets all their needs is a blessing. We live only a short distance away, which is great for travel! There is a continuity in their education, they learn the same values and they are all part of the same community. They are each supported by dedicated and professional teachers who take the time to learn about our children and help them to be the very best they can be." 
That continuity of learning will be on display even further in just a few years' time as Luis transitions into Year 7 and the Secondary years where he will continue to be supported by St. Mary's College for the Deaf. 
For now though, the focus remains firmly on 2019 with all three kids loving the opportunity to get into their uniform and arrive at School/Kindergarten together, as a family. "Our children are very happy. They feel a great sense of belonging and as parents that's important to us and them."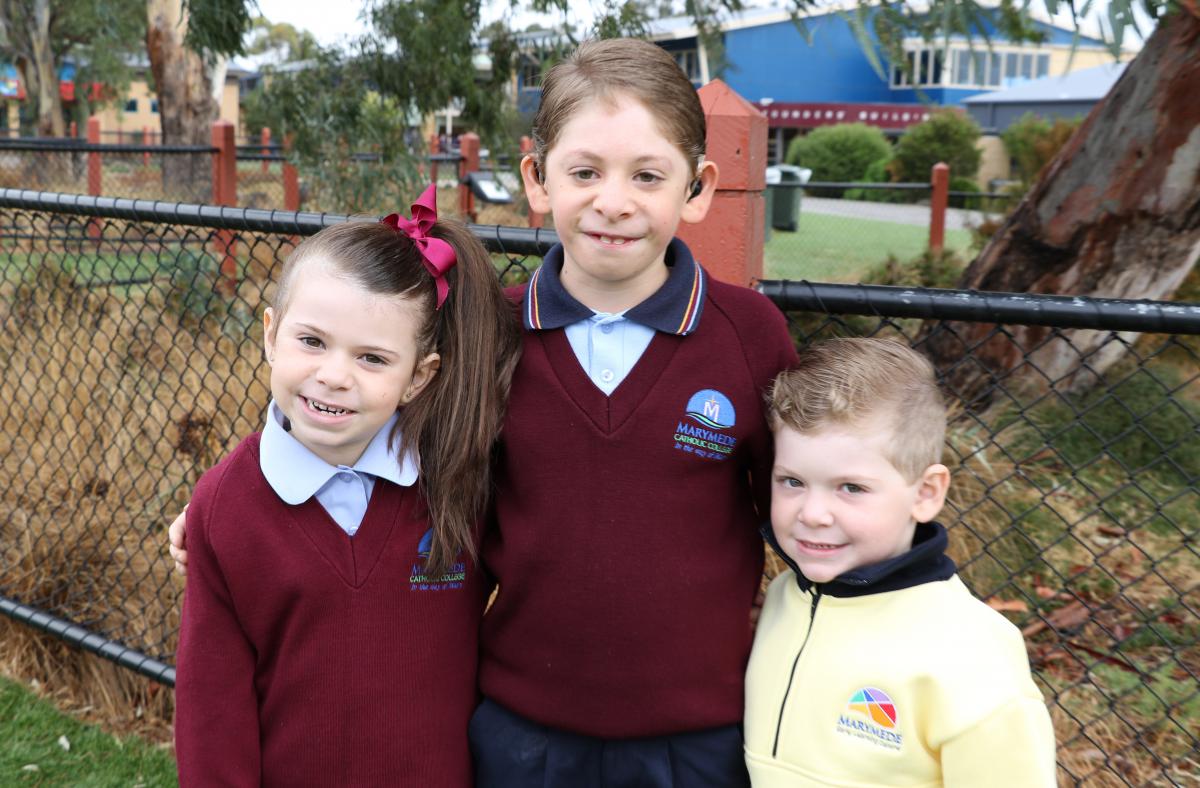 Luis (Centre), with his younger Sister Monique (Left) and Brother Seth (Right)
St. Mary's College for the Deaf offers a Prep to Year 12 learning experience operating within five local Primary Schools. For more information please contact principal@smdeaf.vic.edu.au or visit http://smdeaf.vic.edu.au
Marymede Early Learning Centre offers 3 and 4 Year Old Kindergarten programs in partnership with Marymede Catholic College. For more information please contact kindergarten@marymede.vic.edu.au